Does your business employ an internal L&D team and still outsource eLearning development?
Many forward-thinking businesses fall into the same trap. Handing over entire projects to external agencies might solve immediate capacity and skills gaps, but it offers little control over the strategy and concept; no guarantee of continuity with other training materials; and no skills development for your internal L&D teams.
So instead of just farming out your digital learning projects, why not plug in a partner to work alongside you and build your team's experience to the same level?
With the right mix of in-house production and partnering with an eLearning agency you can respond to the huge growth in eLearning requirements and still maintain total control.
In this blog, Paul Service, Director of Learning Solutions at CommsLearning, shares why he thinks swapping outsourcing for smart-sourcing is the future of eLearning for many businesses.
The outsourcing conundrum:
You already know that eLearning is a critical part of blended learning so needs proper investment.
You're aware that it costs more to outsource it to a specialist eLearning agency than using in-house teams.
You know there are some great people in-house who were recruited in part to develop eLearning.
But it seems easier to outsource the large-scale eLearning projects to expensive agencies, leaving your internal team with limited budget and resources for other training.
This outsourcing model made perfect sense when eLearning was new and these were specialist skills. Plus, the volume of courses required by today's businesses has catapulted over the past five years and thanks to Covid-19 it seems to still be going up.
But it always pays to look at the bigger picture…
What's wrong with just outsourcing the big stuff?
It doesn't develop your people.
In many cases outsourcing to a big agency gives you a higher quality course in a quicker timeframe than you could create in house. But your team need experience in developing digital learning, and we know from 70:20:10 that we learn from experience, so why do we ignore it for our L&D teams?
It can damage continuity.
Too much outsourcing can lead to a disjointed feeling and lack of continuity across your digital learning. Similar to a cut and shut car, with the front end of a Ford and the back of a Renault, it will always feel like it's been welded together.Our tip: If you're going to outsource (which will always make sense in certain cases), make sure you maintain control of the strategy/concept to ensure it fits well within the other training wrapped around it.
When does outsourcing work?
If resources are short in house.
Extreme time pressures, teams working at capacity or a significant volume of work are all good reasons to outsource, but once again, it's important to remain in control of the content, even if you aren't building it.
When you require something different.
Certain projects justify or demand a different approach or style. This is always easier when handled by an external fresh pair of eyes.
New technologies.
If you're looking at piloting a new learning technology, for example, it's smart to learn from others' experience and then evaluate if you want to bring those skills in-house once you've judged the success of the technology/project.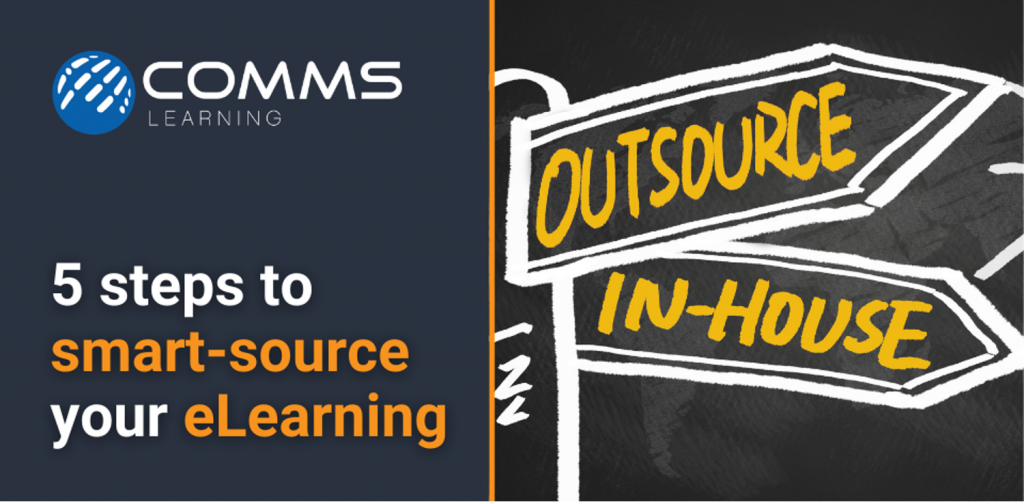 5 steps to 'smart-sourcing' your eLearning
Now is the perfect time to start seriously investing and focusing on bringing the core eLearning development work in-house, and we've shared our five-step framework below.
At CommsLearning we've worked with many customers who are on this journey and truly believe this approach is the right approach for both businesses and the industry as a whole.
Let's share more, work closer and grow together.
Plan– If you don't have a Digital Learning Strategy – Write one. This should include the skills you want to bring in-house and by when. We recommend a phased approach to achieve the best result with minimal risk.
Recruit – Based on your Digital Learning Strategy, identify key skills gaps and where it suits recruit experienced specialists to fill those gaps.
Train – Once you've got the right people in your internal team, invest in them. This doesn't have to be a course, but can be learning through experience. Ask your eLearning provider if your team can shadow them on the next project (We are always happy to take people under our wing and work alongside them on their project!).
Organise– Developing eLearning quickly and to a high quality all comes down to organisation. Learn from the experts on how best to plan, organise and run your eLearning projects.
Partner – Find a friendly eLearning agency (Like us!) that believes in enabling your people to achieve more in digital learning in-house. Partner with this agency to create a genuine skills exchange that will rapidly build your team's skills & experience to the same level.
CommsLearning are market leaders in bespoke eLearning programmes and custom training video design and production, providing systems and product training, mandatory employee training and induction programmes to HR teams.