By Richard Collins, Chief Executive, ClickIQ
After much anticipation, Google for Jobs officially launched in the US in June, but so far the company's stayed tight-lipped on when it will arrive in the UK. Nevertheless, if the platform's as successful as it's expected to be, we think it's likely we'll see a UK launch within the year.
With that in mind, lots of UK employers and recruiters are eager to know what this will mean for the country's recruitment marketplace, and what they can do to prepare.
Here at ClickIQ we have put together a 5 step guide for recruiters to help them become Google for Jobs ready.
But first, let's take a quick look at Google for Jobs
For those of you who haven't had a sneaky peak at Googles offering, go to Google.com (it will redirect you to Google.co.uk, but there is a link in the bottom right hand corner to take you there). Then do a search for a job, ideally with a US location and job title. EG Java developer jobs in New York. Scroll down past the sponsored results to the blue Jobs box. Click the arrow and more jobs at the bottom to see more.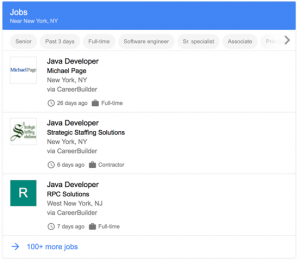 You are now looking at the main Google Jobs site. Layout wise, Google pulls up search results in the left hand column, the main Job details page on the right hand side (just like email previews), and the clever stuff happens at the top of the page (Title, City, Date Posted, Type, Company type, Employer). This is where their machine learning/AI is clustering jobs so that you can pick specific filters to get to more refined results. It is then learning from your behaviour to deliver more relevant results for next time, which is really cool.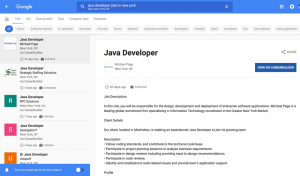 So now you know what everyone is talking about, let's get back to how recruiters can be Google for Jobs ready.
Your traffic is likely to change
A variety of career sites, job boards and aggregators have already integrated with Google for Jobs in the US to ensure that their job postings appear in the new platform's organic search results. These include Facebook, CareerBuilder, Glassdoor, ZipRecruiter, LinkedIn, Monster and many more. The advantage for those sites is that Google for Jobs will push traffic their way, and the advantage for recruiters advertising on those sites is that more people will see their jobs.
However, some of the major job sites — like Indeed — have decided not to integrate with Google for Jobs. Since Indeed relies heavily on its excellent position in Google, it's likely to need to find new sources of traffic as it gets pushed down the search rankings. This means recruiters advertising on Indeed and other sites that haven't integrated with Google for Jobs could see their organic traffic go down and their PPC campaigns become more expensive.
Recruitment analytics will become more important than ever
It's not yet clear exactly what impact Google for Jobs will have on all the other aggregators and job boards. Recruiters need to know what's happening in order to maintain control of their budgets. As mentioned above, there may be an increase in traffic from sources that have integrated with Google, and a decrease from those that haven't. You might also see boosted conversion rates as your jobs appear on Google in front of more relevant and motivated job seekers. But you won't know this is happening unless you have the data in front of you. This is why recruiters need recruitment analytics software more than ever before.
A sophisticated recruitment marketing and analytics platform like ClickIQ puts all that data at your fingertips. Its user-friendly analytics dashboard tracks and analyses all of your performance based job postings across all media channels. It will give you unparalleled insights into how your ads are performing, which aggregators are proving most effective, and exactly how Google for Jobs is impacting your recruitment strategy.
Your job ads will need to be formatted properly for Google for Jobs
In contrast to the Indeed model, Google for Jobs has done away with the need for XML feeds. Instead its 'spiders' crawl the sites that have integrated with Google for Jobs, collecting open job postings — a bit like Google Search does with general web content.
This saves you the trouble of providing an XML feed of your jobs. However, there's a new and rather different hoop you have to jump through, specifically you need to make sure your job pages are formatted correctly so that Google's spiders will pick them up.
Google has provided extensive advice on what they need you to do.
But in brief, you have to add "structured data" to your job pages. This means on every Job web page, providing specific information about the job in HTML format, namely the base salary, employment type, job title and description, hiring organisation, job location, the date the job was posted and the date it will expire, and a unique identifier. You also need to ensure that you follow the structured data quality guidelines and the job posting content guidelines, and you need to keep Google informed by submitting sitemaps and following the sitemap guidelines.
Admittedly, all this might sound daunting and might be difficult for many recruiters to get a handle on. However, by simply plugging into ClickIQ's sophisticated recruitment marketing software, ClickIQ can take care of this for you. ClickIQ is already Google for Jobs ready and designed to manage job ads for recruiters by automatically publishing a client's jobs in the required Google-ready format, at no additional cost.
Pay-per-click (PPC) will follow
It's inevitable that Google for Jobs will introduce a sponsored jobs model, in the same way Google Search does with Google Adwords. When it does, your recruitment strategy will change again and you'll need — more than ever before — a platform like ClickIQ, with programmatic bid management tools and integrated AI to control and optimise your PPC job ads. ClickIQ will distribute and optimise your recruitment budget in the most efficient way possible across all media channels, whether that's Google, Indeed, Adzuna or any other performance Job board.
In conclusion…..Plug into ClickIQ
Google for Jobs will, without doubt, change the face of recruitment. It will also continue to drive the move towards pay for performance (PPC) recruitment advertising, which can only be a good thing.
To take advantage of these changes, UK recruiters need to make sure that their Job web pages are correctly formatted in a Google friendly way, and they need to have recruitment analytics tools in place to both track and analyse responses. They would also be wise to be plugged into sophisticated programmatic bid management tools such as ClickIQ to ensure they can control their PPC spend in the most efficient way.