The HR Summit is a highly focused event that brings the human resources industry together, for one-to-one business meetings and valuable networking opportunities; saving you months of time, research and money.
The event will guarantee:
– An audience of pre-qualified, senior decision makers
– Selected and 'matched' meetings
– One-to-one meetings throughout, generating new business connections
– Full partner package, including marketing, stand, electrics, lighting and furniture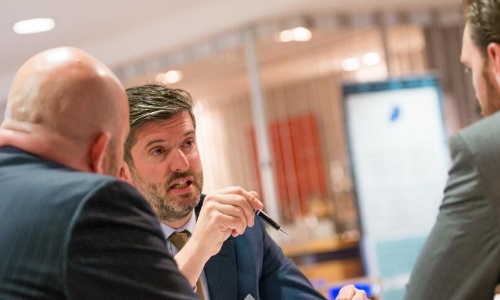 Tailored to meet your requirements like no other event.
Your time is precious, valuable, and limited. At the Summit, we will deliver a first-rate return on investment, and put you in touch with HR professionals who have specifically asked to meet you, would like to discuss your products and services, and are pro-actively looking for solutions for their upcoming projects.

The Summit also offers an unparalleled opportunity for you to promote your service solutions to senior decision makers, who have the authority to spend and are reviewing their current suppliers.
Key benefits
We organise personalised appointments between buyer and supplier to meet within a private meeting stand. Each supplier will have a series of one-to-one meetings with key decision makers throughout two days.
You are guaranteed an audience of professionals, for genuine business meetings, without hidden costs.
Testimonials
'The event was brilliant, it allowed us to talk to the key HR decision makers and we learned what was important to them; a great day!'
'The event was excellent, and all of our 20 minute meetings happened, which was fabulous. The day was very well organised, and hopefully will result in some excellent follow-up meetings for us'
'Good venue, good level of buyers, good conversations.'
'This has been a really good day, with good quality conversations with the right people; i.e. decision makers!'
At the heart of our Forums and Summits is an itinerary of pre-arranged, online one-to-one meetings between industry relevant delegates and suppliers. Meetings are hosted via video meetings and are all bespoke to you and your business, all you need to do is log on to your attendee page and click on the links to join a meeting.
If you are attending one of our Forums or Summits, we will send you login information for our online pre-event selection process. From here, you will need to confirm your details, select seminars to attend, shortlist suppliers that you wish to meet, add any additional information such as dietary or accessibility requirements, and review and submit this information.
We will create your personalised itinerary based on the information you supply and on your own personal preferences.
At our Forums and Summits, we work on selections that you have made online, cross-referencing with those from attending suppliers. Your individual itinerary is put together based on the following priorities:
Perfect matches; where a delegate and supplier have both requested to meet one another
Delegate requests; where a delegate has an interest in a particular supplier
Supplier requests; where a supplier has registered an interested in meeting a delegate
The seminars you select will be added in-between these meetings on your personalised itinerary.
As an attendee, you will be sent a link to your personal attendee page, here you will see your itinerary of meetings. These meetings have been allocated through either delegate or supplier choices.
At each appointment time, a notification will appear in the activity box and ask you to join. Please click on the join now button on your screen and you will be connected to your meeting.